Discussion Starter
·
#1
·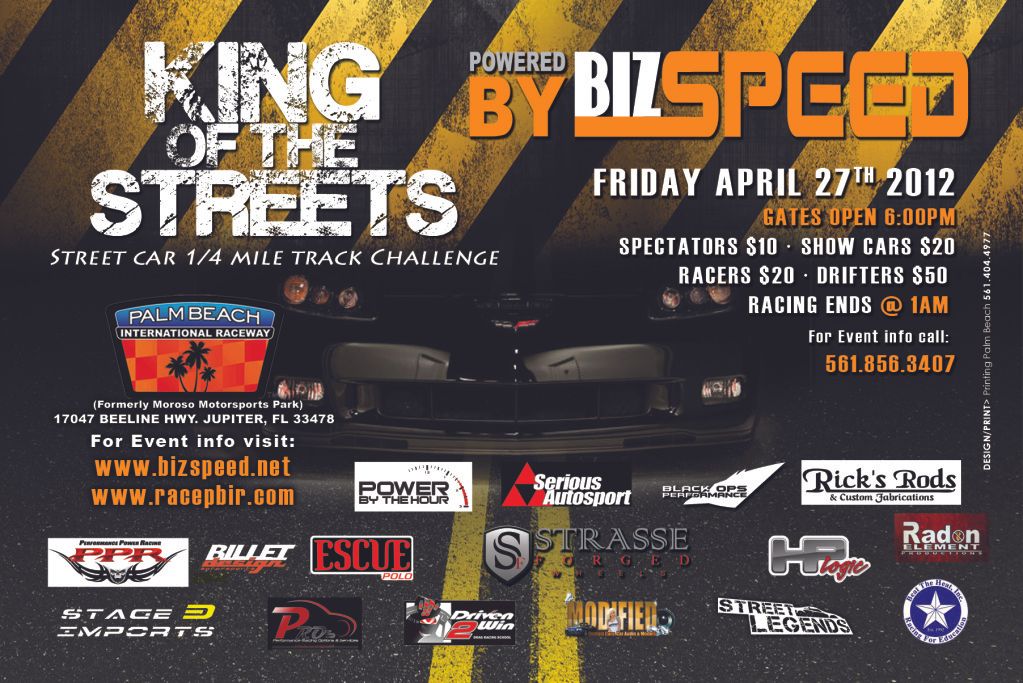 This Spring Palm Beach International Raceway & BizSpeed have joined forces to bring the thrill of the streets to one of the top tracks in the country determining once and for all who is King of the Streets!
The event features the best of automotive culture with racing on the strip, drifting on the road course, a top tier car show and a live DJ providing a soundtrack for the evening.
It all goes down on April 27th with classes for RWD, AWD & FWD competing for entry in the showcase bracket for King Of Streets which will pit the best of the best against each other in a true arm drop style street race competition. You heard it correctly, no sportsman tree for this contest. The starting line will be filled with anticipation as the fastest cars on the street await the inevitable arm drop starting their defining race to the end of the quarter mile earning the elite title: King of the Streets.
PREVIEW VIDEO LINK:
http://vimeo.com/39613641
FACEBOOK EVENT LINK:
https://www.facebook.com/events/390905820938196/
1/4 MILE STREET CAR CHALLENGE:
CLASSES : RWD ,AWD & FWD
STREET CARS ONLY
DOT APPROVED TIRES!!
RACE TYPE : Run what ya brung , Heads up!
CAR SHOW CHALLENGE:
20 CLASSES: listed bellow.
Location: Palm Beach International Race Way.
Date: 04/27/12
Extended Hours: 6PM-1AM
Spectator/Crew Entry: $10
Race Entry :$20
Car Show Entry: $20
Drifting:$50
For additional event info please call 561-856-3407
Complimenting the marquee event on the drag strip is a signature BizSpeed car show with over 20 classes welcoming all ranges of automotive excellence from old school muscle to the new generation of stanced imports. BizSpeed has broken records and set the new standard in car shows over the past few years luring the finest cars in South Florida out of the garages and into the open for all to admire.
In between rounds on the drag strip Ter-Tech drifting will be sliding all over the road course demonstrating the best of the best in Florida drifters.
This April 27th PBIR has extended the hours until 1AM letting BizSpeed bring you an event to remember, King of the Streets! Whether you're settling a score on the track or out shining the competition in the car show this event will be a spectacle for participants and spectators alike.